Students will be bringing home a syllabus for a parent/guardian to sign.

Students are required to get a sketchbook by Monday's class. We will be using this sketchbook daily and it will be 40% of the students grade. I also sent home a sketchbook order form if you would like to purchase one from the school for $5.00. The money goes directly back into the art program for supplies.
Students were also given the choice to get a canvas product to paint for their final artwork OR they may paint a ceiling tile for the art room. If your students want to purchase canvas shoes Walmart and Amazon have the best pricing. They may also get a canvas hat or bag or panel.

Looking forward to having an exciting quarter!
Powered by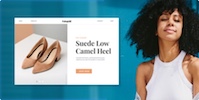 Create your own unique website with customizable templates.