6th Grade Artists
"
Creativity takes courage."
Henri Matisse
Activity 1- Students created 12 boxes using a one point perspective. (4 above, 4 on, 4 below the horizon line)
Activity 2- Students created 9 geometric shapes using a vanishing point.
Activity 3- Students designed their names with block letters and in 1 pt. perspective
Activity 4- Final project: Students will create a room in an art gallery using 1 pt. perspective. The artwork on the walls of the gallery will be reproductions of famous pieces that the students research.

Powered by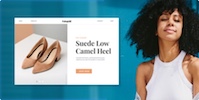 Create your own unique website with customizable templates.