6th Grade Artists
"
Creativity takes courage."
Henri Matisse
Students are creating 4 preliminary sketches of objects as characters.
Students will select at least one object and create a final character on 12x18 paper.
Students will create a setting for the character using their knowledge of the art elements and principles of design.
The objects must show a range of value including highlights and shadows to give them a 3D appearance.
The character must have a personality.
The artwork must have a title, date, and signature.
Due Date: March 2nd at the end of class.

Powered by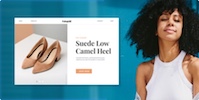 Create your own unique website with customizable templates.